Have you found yourself eyeing our Contact Centre jobs but wondering if you've got the right experience to even be considered for an interview? Well, you're in luck because most of our roles don't require any specific experience. What we look for is the perfect mix of skills.
Whether we're hiring a Sales Consultant, Sales Executive or Remote Customer Service Advisor, there are a few skills we always look for in our people. You might have picked them up in previous jobs, or they could just come naturally to you. Read on to find out what those transferrable skills are and how you can stand out as the perfect candidate for a contact centre job at Admiral.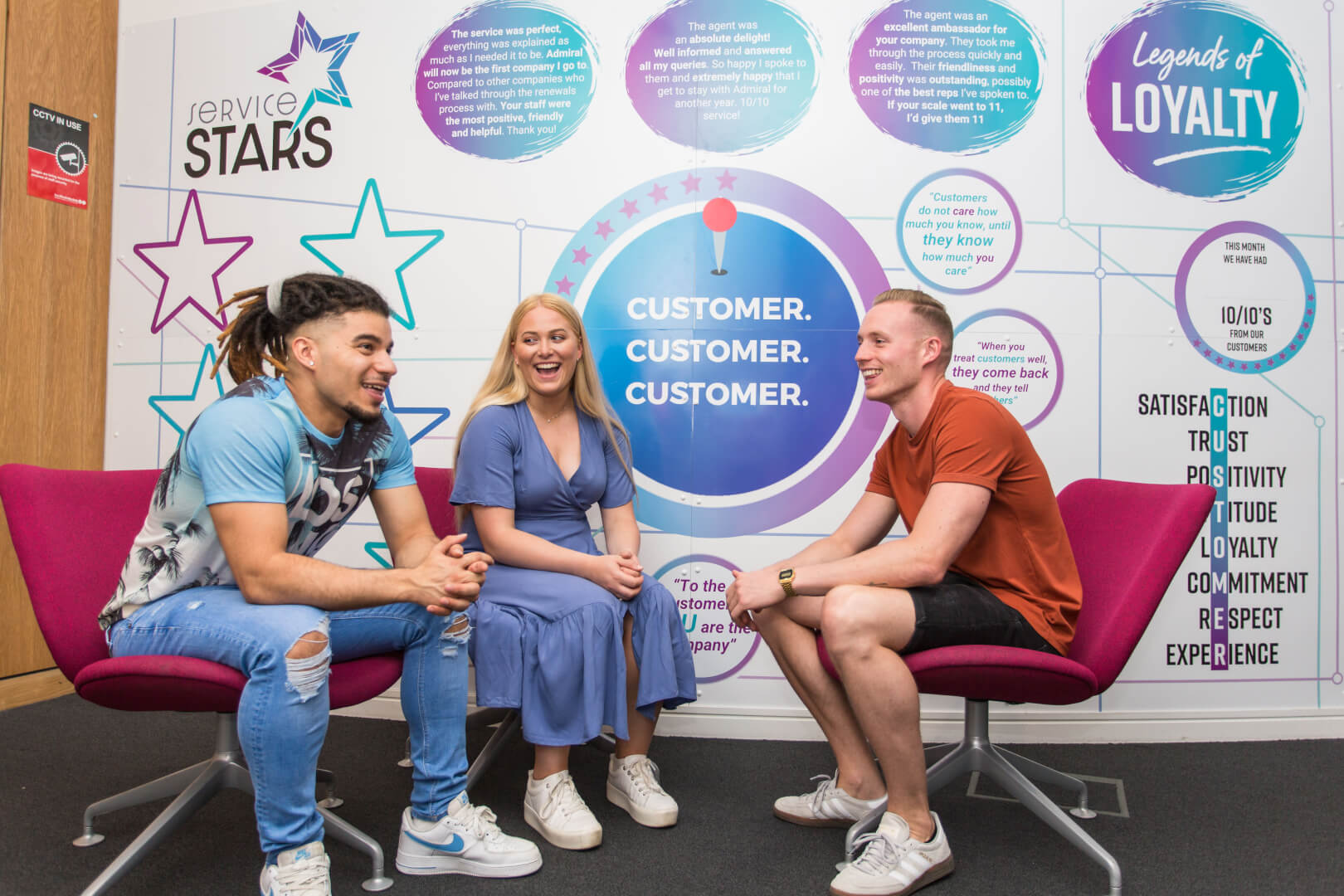 Engaged
At Admiral, we truly care about our customers. Everything we do, we do with them in mind. It doesn't matter what Contact Centre role we're looking to fill, whether it's a Sales Consultant job or a Customer Service Advisor role, we want someone that is fully engaged. Someone willing to work hard to make customers happy in a fast-paced environment.
Our philosophy is simple: people who like what they do, do it better. If we're going to continue meeting the needs of our customers, we need team members who can turn up to work and give it their all. Now, we know that to do this, our people need a place where they feel safe to be themselves. That's why we work hard to ensure everyone is seen as an individual and celebrated for their differences.
Communication
Communication skills are golden in our Contact Centre roles. You need to show customers that you're actively listening to them and making sure they feel heard. You're not just hearing the words they're saying, you're listening to how they're saying it. If you can understand what a customer is truly telling you, you have a much better chance of giving them the answer they're looking for and therefore have a successful conversation. It might sound simple, but it does take practice.
We always want to ensure that our communication is honest and two-way, with customers and colleagues. In fact, communication is so central to everything that we do, that it's one of our four pillars. It's a key soft skill to include on your CV, and if you consider yourself a good communicator, you might just be perfect for a Contact Centre job here.
Motivated
Do you consider yourself a motivated person? If so, what motivates you? We know that our people are motivated by rewards. Sometimes it's as simple as a thank you. Other times we'll offer financial rewards. But what are we rewarding? Amazing colleagues who bring their A game, show our customers how much we care and live our values day in and day out. It's the people who are always pushing to be the best and are able to push their teams to be the best too.
Supportive
Work shouldn't just be a place you turn up to every day to pay the bills. It's an experience. We want you to make great memories with us, connect with your colleagues, feel that you're making a difference for our customers and build a career.
For Rich, the sense of community has kept him at Admiral for 14 years and counting. He might have joined straight out of university and only planned to stay a year or so, but he's ended up building a career and making lifelong friends.
Find out more about life at Admiral
If you're looking for a place where you'll be accepted for who you are, you couldn't be in a better place. After all, it's not just skills that we look for when hiring people for the Contact Centre team. We look for people who we know will live our values every day and appreciate our inclusive, open-minded and respectful environment. These people make up our diverse working culture, and that's what makes us Admiral.
Check out our Contact Centre roles to find out more about life at Admiral and explore the different types of jobs we can offer you.
Ready to take your next career step? Then it's time to brush up on the top interview questions and get ready to wow the interviewer with your well-prepped answers.