If you're a budding tech professional looking for an exciting and fulfilling career, you're in for a treat.
Imagine a workplace where cutting-edge projects, diverse opportunities, and a culture of innovation come together seamlessly. Welcome to Admiral – the place where your tech dreams can truly take flight, where innovation meets opportunity.
With the UK tech sector retaining the number one spot in Europe and number three in the world, we're positioned in a powerhouse of leading innovation and growth. There's no better time to pursue your tech dreams than now.
Whether you're searching for entry level tech jobs or remote jobs in tech, opportunity awaits at Admiral. Technology is at the heart of driving our business, from hackathons that encourage the development of complex solutions to professional development across software degree apprenticeships to management training and beyond.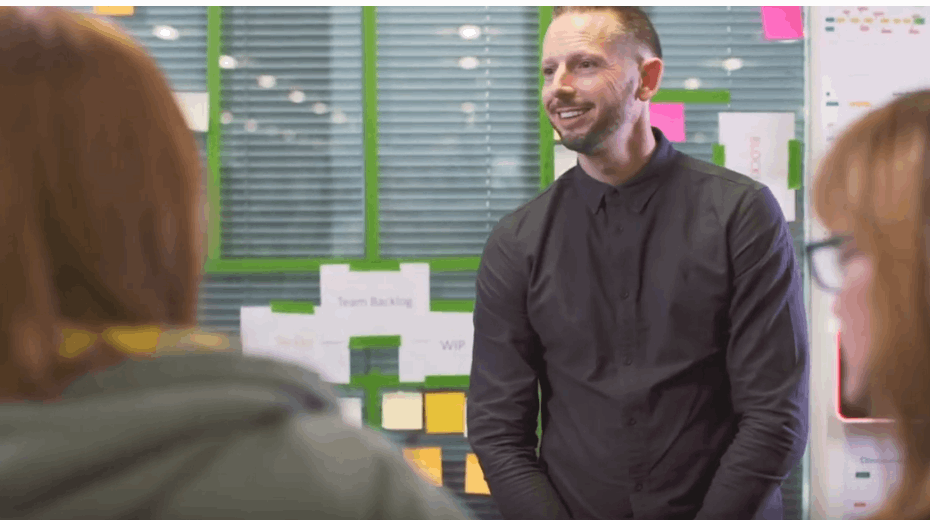 Delve into some of the exciting projects at Admiral, and learn how you can unlock your tech potential:
1. Diving into new horizons: Pet Insurance and FintechOS
Admiral is not your average company, and our tech projects certainly reflect that! Our recent venture into Pet Insurance is just one example of how we're pushing boundaries.
This innovative offering is powered by FintechOS underpinned by Microsoft Azure, enabling us to deliver enhancements quickly allowing us to respond to the market and drive fast growth of our pet insurance business.
2. Revolutionising customer experiences with AI: Genesys Cloud CX
Ever heard of a contact centre solution that's powered by AI? That's exactly what Genesys Cloud CX brings to the table, and we're proud to be implementing it.
This advanced solution helps us gain deeper insights into our customers' preferences and behaviours, enabling us to deliver tailored experiences that truly stand out. As a tech enthusiast at Admiral, you could be at the forefront of this AI-powered revolution, shaping the way businesses interact with their customers.
3. Tech jobs for all: Empowering women through #TechSheCan and CFGdegrees Partnership
A recent report looking at diversity in UK tech found that only 28% of tech workers are gender minorities (99.99% of those surveyed identified as female). At Admiral, we're not just about technology, we're also about fostering diversity and inclusivity in the tech world.
We're signed up to PWC's #TechSheCan charter – a commitment by organisations to work together to increase the number of women working in technology roles in the UK. Learn more about how we're working to support more women moving into tech from Hannah's story.
Our partnership with Code First Girls (CFG) is just one of the other ways we show our commitment to this cause. Through CFGdegrees, we offer ambitious women like Zoe a chance to embark on a 16-week journey into the world of tech – and the best part? It's absolutely free.
With mentorship from our experienced UK colleagues, this programme is designed to empower and prepare women for successful careers in tech. As an Admiral tech professional, you'd be part of a community that's dedicated to making a positive impact.
4. Harnessing the power of tech for security analytics
In today's digital landscape, security is paramount. That's why we're using advanced automation, machine learning, and AI for security analytics.
Our tech experts are leading the charge in developing cutting-edge solutions that help us detect and respond to security threats efficiently and effectively. Joining Admiral means joining a team that's committed to staying ahead of the curve and safeguarding both our business and our customers.
Why choose Admiral?
With an impressive portfolio of exciting tech projects, Admiral is not just an employer – it's a launchpad for your tech career. We're not afraid to explore uncharted territories, embracing the latest technologies to drive innovation. Whether you're passionate about cloud platforms, AI-powered customer experiences, diversity in tech, or cybersecurity, Admiral has something for you.
Imagine a workplace where you're not just an employee, but a key contributor to projects that shape industries and change lives. Imagine being surrounded by colleagues who are just as enthusiastic about technology as you are, and leaders who are genuinely invested in your growth.
So, if you're ready to embark on a journey of tech innovation, growth, and impact, Admiral is waiting for you. Join us, and let's create a future where technology knows no bounds. Your tech adventure starts here.

Explore tech jobs at admiral